http://www.youtube.com/watch?feature=player_embedded&v=2_efOu9-Y7g
Wii U Rayman Legends trailer gets leaked and finally, it answers some questions as to how the Wii U is played! One player uses the tablet and the other three players use Wiimotes, how simple! Why did we not guess this? For months, I was like "only one tablet per console, how will this work?". You can also place figurines onto the tablet surface and the Wii U imports them into the game. Graphics for the Wii U are also on par with current generation consoles, which is welcome news  for fans… Until the next generations blow it out of the water.
Metal Gear Solid 1,2 and 3 are coming to PS Vita in June. The collection will allow transferring which will enable you to game on the go and, upload your save file to the PS3 and play your game while on the bus to work and when you get home you can resume on the PS3 and not be consumed with rage when the girlfriend wants to watch her shows. Xbox needs to take note!
Sega announces new Sonic game. Sonic & All-Stars Transformed offers a racing game that will excite Sega fans. Vehicles transform depending on the track and with a Super Monkey Ball track which enables you to turn your vehicle into a boat and a Panzer Dragoon track with planes it looks damn exciting. Old favourite characters are back and we see new characters and to mention a few: Gilius Thunderhead from Golden Axe and Vyse of Skies of Arcadia. Sonic & All-Stars Racing Transformed will hit stores in late 2012 and will be available for PS3, Vita, 3DS, 360 and PC
Dishonoured looks like Fable III there, I said it.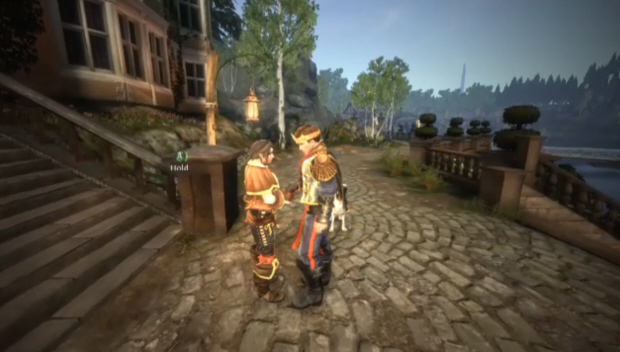 Now, I'm not saying that Dishonoured is a direct rip off from Fable 3 but as I was looking at new released shots of Dishonoured and I thought "hmmmm… it is rather familiar!" and I thought the same when the unveiling trailer was released, I may be correct in my thoughts as more about Dishonoured was released this week.
Both games are Steam Era, both protagonists have supernatural powers both and up to now we learn that both games involve decision making which affects gameplay. If I am correct and that this is Bethesda's answer to Fable III then I expect it to be bigger, better and without the ever annoying "all star cast". I hate all star casts because "it's just Simon Pegg "or "it's just  Zoe Wanamaker" or Ricky Gervais or anyone else in the papers at the moment (except for Sean Bean who can be anyone and do it well – Basterds, ye).
I also hope that Dishonoured will have more adult themes and as it is Bethesda I expect that they will, I also think Dishonoured will deliver where Fable III failed in decision making. I may be wide of the mark but those are my thoughts so far.